Between Friends January 2022
Welcome to the January 2022 edition of Between Friends. We hope everyone is well and safe and had a peaceful Christmas and New Year.
We hope you find this latest digital newsletter a positive way to connect with what is happening at The Compassionate Friends Victoria over the early part of the year.
********************************************************************************
TCFV SUPPORT & SOCIAL SUPPORT GROUPS:
For the most recent updates on group meetings (onsite and online), please regularly visit the website.
www.tcfv.org.au/support-groups/
Please note: as per DHS requirements, to attend a TCFV support group, social group or TCFV event, you need to be fully vaccinated or have a medical exemption.
Thank you for your assistance here.
****************************************************************************
Coming up in March...
Night of Hope Gala Ball
A chance to dress up at this Black-Tie Event and have fun with friends and family in a safe environment.
Please click on link under the flyer to purchase your tickets.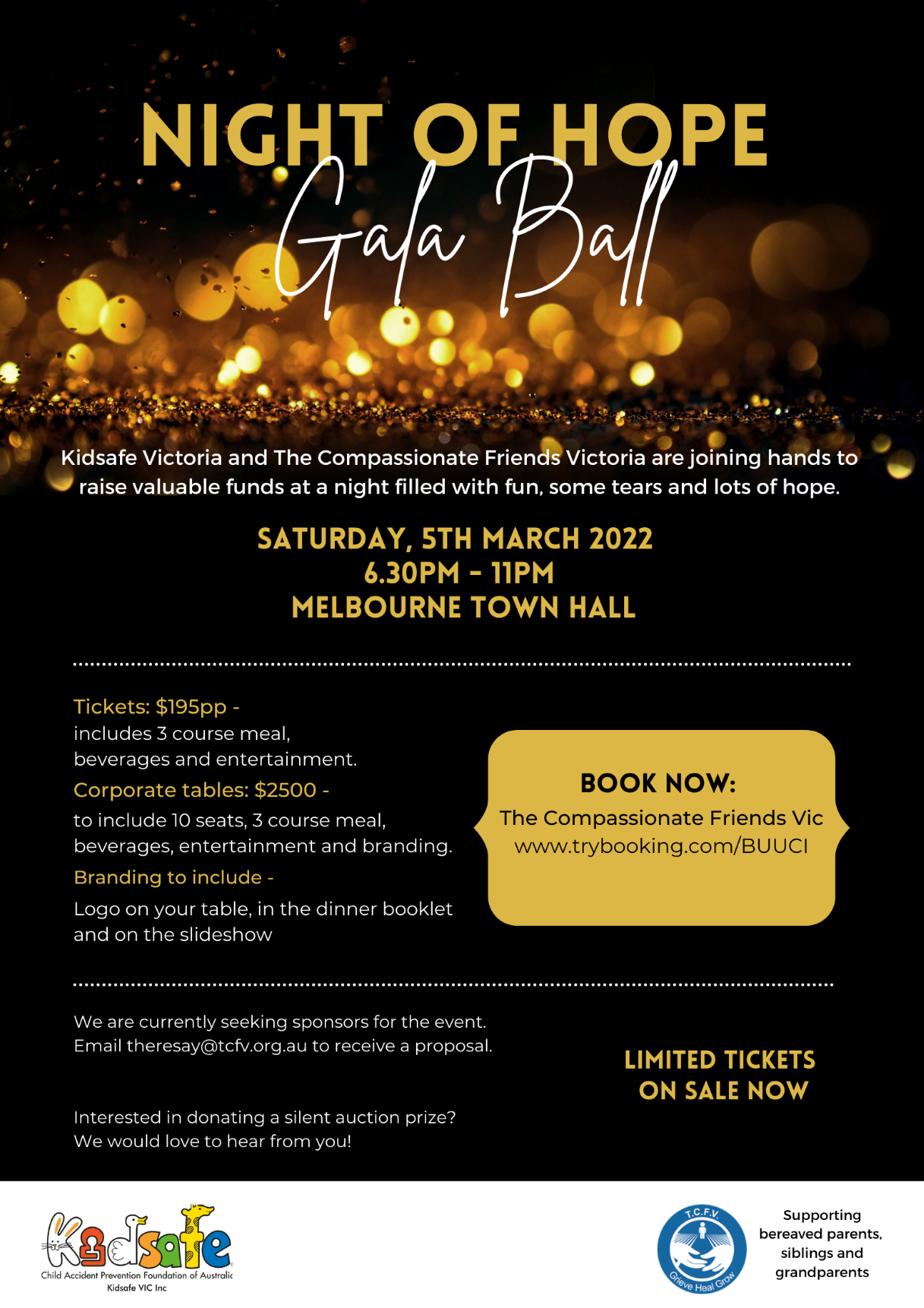 Night of Hope - For Compassionate Friends Vic Tickets, Melbourne Town Hall, Melbourne | TryBooking Australia
*****************************************************************************
OPEN DAY
We would like to invite everyone to our Centre Open Days on 4 & 5 February 2022, please feel welcome to bring along family and friends. There will be lots of activities and workshops and other things to see and do.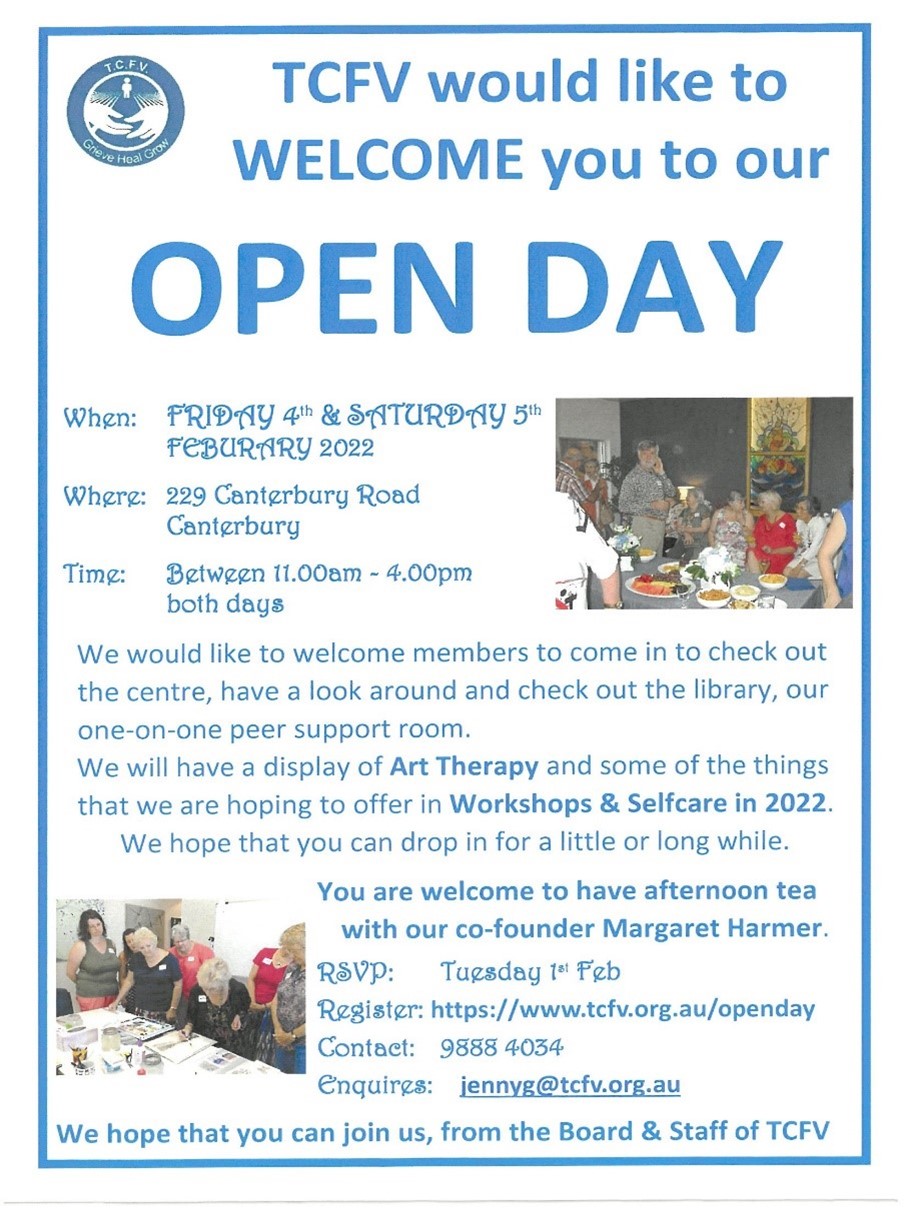 *****************************************************************************
PUBLIC SPEAKING AND CONFIDENCE BUILDING SESSIONS
Please note that at the time of writing there are only 3 spaces still available.
Would you like to improve your Confidence as a public speaker? Maybe help TCFV as part of the Community Education Speaking Team? We will be running three sessions early in 2022 on building confidence and presenting for TCFV. Please note that there is no obligation to join the speaking team if you attend these sessions.
Session 1: "Confidence" will be inward looking: How can I control my nerves? How can I be confident? How do I confidently answer questions?
Session 2: "Delivery Skills" will be about prospective audiences. How can we engage and motivate? How to include a PowerPoint in your presentation.
Session 3: "Making presentations for TCFV" will be about background on TCFV.
Session 1 is recommended if you wish to do Session 2 and 3.
Session 2 is strongly recommended if you wish to do Session 3.
Session 1: Saturday 12 February
Session 2: Saturday 26 February
Session 3: Saturday 19 March
All sessions will run from 10:00am – 4:00pm
Lunch will be Provided (please advise of any dietary requirements)
Please contact Jane via email on janem@tcfv.org.au to register or for further information.
Numbers are limited to twelve participants.
*****************************************************************************
COOK & CHAT FOR BEREAVED MEN
FEBRUARY 25 @ 6:30pm – 9:30pm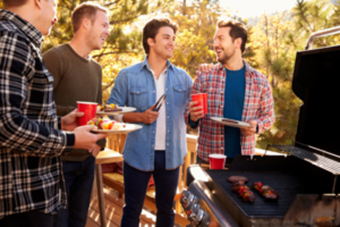 We would like to welcome all the men within TCFV to our first Cook & Chat. It is open to all our bereaved fathers, brothers and grandfathers. Please come along to mix and chat with other bereaved men in a relaxed, welcoming environment. This event supports a sense of mateship and wellbeing, while dealing with your grief as well.
We are opening our doors, providing the space for you all to get together. We will provide the food and soft drinks for the BBQ.  You are welcome to BYO a couple of drinks of your choice, if you wish to do so. For more information and to register please click here:
Cook & Chat for Bereaved Men - The Compassionate Friends Victoria
******************************************************************************
LONG TIME BEREAVED MORNING TEA
March 9, 2022 @ 10:00 am - 12:00 pm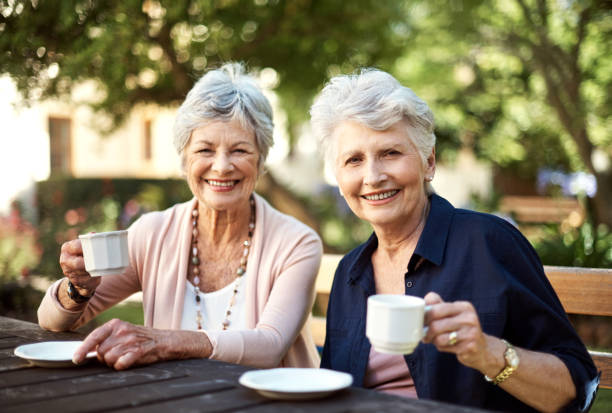 We would like to invite all our long-time bereaved members to Morning Tea with Jo Knoll and Judy Dowling
This is open to anyone that would like to come but it is more for those who do not go to support group anymore and would like to catch up with other long-time members and volunteers who they may have not seen in a while.
(Long time bereaved is 15 plus years)
RSPV: By Friday 4th March
Please click on the link below.
Long time Bereaved Morning Tea - The Compassionate Friends Victoria
******************************************************************************
SIBLING CONNECTIONS SUMMER BBQ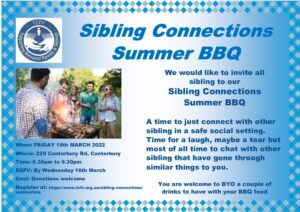 March 18, 2022 @ 6:30 pm - 9:30 pm
We would like to invite all siblings to our
SIBLING CONNECTIONS Summer BBQ.
A time to just connect with other siblings in a safe social setting.
BYO ALCOHOL 2-3 DRINK LIMIT PER PERSON
Please click on link below to register.
Siblings Connections Summer BBQ - The Compassionate Friends Victoria
******************************************************************************
ONLINE EXPRESS YOUSELF THROUGH ART: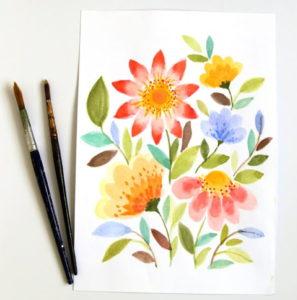 We have some upcoming sessions of this highly recommended program. The classes enable participants to express feelings and thoughts that they may not be able to articulate, want to speak about or share. This is in a completely safe and non-judging environment. For more information, please click here:
******************************************************************************
ONLINE SUPPORT GROUP for Regional Victorians bereaved through suicide of a child, sibling or grandchild
This welcoming and supportive online environment provides bi-monthly – Feb, Apr, Jun, Aug, Oct, Dec – peer support to regionally-based suicide bereaved parents, siblings and grandparents. (Feb, April, June, August, October, December). For more information, please click here:
www.tcfv.org.au/events
******************************************************************************
KIDSAFE/TCFV
Bereaved of a Child 14 years & under via Accident
A new monthly online support group – held the second Tuesday of the month at 7pm - that marks a collaboration between Kidsafe and TCFV.
To register to attend, please contact Alex Hamilton at:
alex@kidsafevic.com.au
*****************************************************************************
Save the date for the
2022 Gathering
Friday 21st October to Sunday 23rd October 2022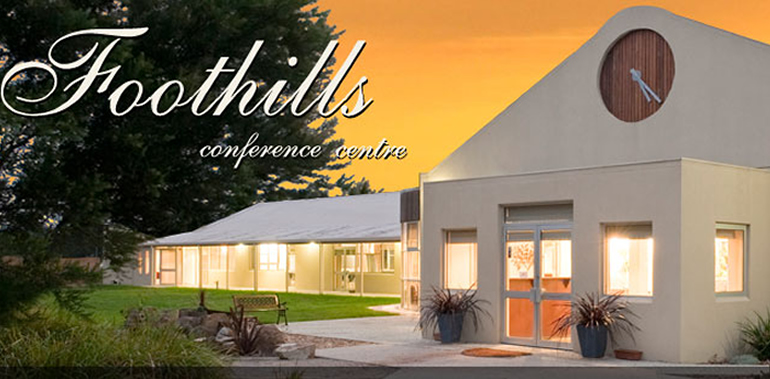 This is a weekend where you can come together with
other families who have also lost a child, sibling, or grandchild.
Time to talk, time to cry, time to heal and time to grow.
A time to be with OTHERS, who have similar lived experiences.
This will be a weekend for people all at different stages of grief.

The feedback from a past Gathering was inspiring:
"The workshops and social contact were both highlights"
"I thought everything was excellent"
"It made us all happy to be together"
"Very beneficial to connect and contribute, please, please do have it again in two years"
For further information contact Jenny Galati jennyg@tcfv.org.au
*****************************************************************************
During 2021 TCFV undertook an extensive strategic planning process, please see below the updated
values, vision, mission statements and the seven principles of TCFV.
TCFV Values
Compassion
We provide a safe space for bereaved people to grieve, heal and grow

We provide opportunities for them to share their grief journey by being emotionally aware and building a culture of genuine concern – one that is considerate, inclusive, non-judgemental and sensitive to the fragility of others
Respect
We respect that everyone has a different grief journey by actively listening with an open mind and respecting personal boundaries/confidences

We act with integrity in all our interactions with each other and all our stakeholders.

We honour decisions and commitments we make or are a part of so that people know we are consistent and can be trusted
Lived Experience
We build the capacity of our community, by assisting any bereaved person wishing to help others, by training and nurturing them as volunteers to provide support to the bereaved

We value and advocate for our lived experience as the foundation for the development of meaningful policy, programs and services for the wider society
Community
We raise awareness of bereavement and the unique needs of parents, siblings and grandparents within the general community and broader professional sector, sharing our insights and experiences
Acknowledging that we are part of a global community and upholding the 7 principles of The Compassionate Friends, we create a sense of community through activities, programs and events that bring bereaved parents, siblings and grandparents together

We actively seek out and appreciate the views, skills and knowledge of our members, the wider community, our service partners and other organisations with whom we share a common Vision
TCFV Vision
We live in a community where every bereaved parent, sibling and grandparent can access support throughout their grief journey.
TCFV Mission
We offer lived experience to support people to grieve, find healing and grow through their journey of deep pain following the death, at any age and any cause, of a child, sibling or grandchild.
Strategic Goals
Develop and maintain a financially sustainable organisation to continue providing vital services.
Improve technological capabilities to be responsive to emerging opportunities and needs of the bereaved.

Grow services in balance with resource capacity to be responsive to needs and contribute to community mental health and well-being.
The Seven principles of The Compassionate Friends Victoria (TCFV)
1. TCFV offers friendship, understanding and hope to bereaved parents, siblings and grandparents.
TCFV's focus is on supporting parents, siblings and grandparents in their journey through the natural processes of grief.

TCFV defines the terms 'parent', 'sibling' and 'grandparent' broadly, welcoming the bereaved from all family units, including blended families.
2. TCFV believes that bereaved parents, siblings and grandparents can help support each other in
their bereavement journeys.
TCFV recognises that for some people, expressing thoughts and feelings is integral to the grief process and provide a safe, supportive environment for such expression.

The model of bereavement support that TCFV offers is based on the sharing of similar lived experiences and self-help. TCFV does not offer professional counselling, although recognises that there may be the need for referral to other services in the community.

TCFV values the importance of working in collaboration with other appropriate community services, respecting their contribution for a more complete model of bereavement support.

TCFV welcomes the opportunity to educate the community by sharing knowledge and resources.
3. TCFV is inclusive of all members of society, regardless of socio-economic status, gender-identity,
religion, ethnicity or culture.
TCFV is respectful of different beliefs and is not associated with any specific religion or ideology.

TCFV welcomes all parents, siblings and grandparents over the age of 18, who are bereaved of a child, sibling or grandchild of any age and from any cause.

TCFV does not endorse political candidates or parties.
4. TCFV understands that every bereaved parent, sibling and grandparent has individual needs and
rights.
TCFV understands that there is no 'correct' way to grieve.

TCFV acknowledges that everyone deserves an opportunity to share their thoughts and feelings, while not being compelled to do so.
All participants at TCFV events have the responsibility to listen to others, while treating each other with care, respect and consideration.
5. TCFV offers a range of services which include support groups, 24/7- and 365-days telephone
support, grief resources, events, volunteering opportunities, online engagements, sibling chat service, creativity in bereavement activities, discussions about grief and community education.
All TCFV services are delivered in a safe, friendly, non-judgemental and caring environment where participants are free and safe to express themselves.

TCFV's support groups are self-managing while operating within the organisation's principles, policies and practices.
6. TCFV belongs to our members.
TCFV encourages membership, where there are annual fees and specified services, although the organisation does not exclude non-members from accessing support services.

TCFV respects confidentiality of personal disclosures.

Where there is any media or observers at TCFV events, prior consultation of participants is required.
7. TCFV is a state-wide not-for-profit organisation supporting bereaved parents, siblings and
grandparents.
TCFV is governed by its Constitution and guided by its policies and procedures. It is overseen by a volunteer Board of Management whose members are elected.

TCFV is represented on The Compassionate Friends Australia (TCFA) Board of Management (together with other state-based affiliates), where TCFA serves as a conduit to promote relationship building and collaboration between the various TCF organisations across Australia.
TCFV adapted the above from 'The Seven Principles' written by Art Anderson, Star Lake, NY. The principles followed the philosophy of The Compassionate Friends founded in Coventry England, 1969, which were further adopted by U.S. National Board of Directors, 1981 and endorsed by the National Board of TCF Canada, 1986.
*****************************************************************************
This beautiful poem was recently sent in by TCFV Member Kerry Sluggart.